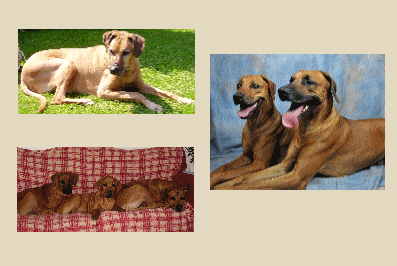 John and I have been involved with Rhodesian Ridgebacks since early 1997 when an eight week old canine whirlwind who we called Kheldar came into our lives. It took us several years and much research to decide to first, have another dog, because we already had a Border Collie called Garion, and furthermore to have a Ridgeback.


Ridgebacks are sensitive, intelligent and independent dogs and owning them should not be undertaken lightly. However, we have learnt that if you are prepared for the challenge of this unique hound they will captivate your heart.


I grew up in the world of dogs and dog showing, and was quite determined that we would not become too involved in showing with our dogs. I intended to only show Kheldar for a bit of fun until he could do agility, but he qualified for Crufts at his first championship show at just six months old, and so we carried on showing. Then he gained his Kennel Club Stud Book Number at twenty-one months old which qualified him for Crufts for life and we were bitten by the Showing Bug.

Like many other Ridgeback owners one of them was not enough and in 2000 a pretty puppy called Faahac Fushana For Shingwidsi joined us. Adara, though more often called Darrie, was bred by Gill Lawless from her precious girl CH Saragwe Saafiki at Faahac. Adara did well in the show-ring where she gained her Stud Book Number and won her class at Crufts in 2004 but she was always happiest doing obedience and hunting in the fields.

After a while we felt the time had come to add another Ridgeback to our family and so we decided to breed our first litter. We planned only to have one litter from Adara and therefore put a lot of thought into choosing the right dog. Not wishing to do things the easy way, we chose a dog in Sweden, SVCH, INTCH, NORDUCH, DKUCH, NUCH, SUCH, SV-02 Hayawani Zazazela Moyo, otherwise known as Ozzy. This exciting combination gave us new breeding lines combined with some of the older English lines. After two years of planning Adara gave birth to a super litter of twelve healthy puppies in January 2005.

We chose our puppy from the litter very early on, we called her Bethra and gave her the Kennel Club name Shingwidsi Tshelana Riva. In the litter there was one little boy who did not seem in a hurry to leave, and he had the biggest brown eyes, so the good intentions went out of the window and he stayed! We called him Barak and his 'posh' name is Shingwidsi Tshepa Riva. Both Bethra and Barak have done well in the show-ring, they gained their Stud Book Numbers in 2007 and Bethra became a Champion in 2011. On the same day her daughter Porenn, from our second litter, gained her Stud Book Number by winning the Reserve Challenge Certificate, making it a very memorable day.

Our dogs live in the house with us and though they enjoy showing it is only a hobby and they are first and foremost our companions. They all enjoy long walks over the Malvern Hills and their weekly training classes. Our dogs have passed The Kennel Club Good Citizen Scheme and Barak has been a Canine Blood Donor. In addition to showing, we have also been involved in obedience, agility and flyball.

We take our responsibility to the breed seriously and are active members of The Midlands and Northern Rhodesian Ridgeback Club, The Rhodesian Ridgeback Club of Great Britain, The Southern Rhodesian Ridgeback Association and The Rhodesian Ridgeback Club of Scotland.. We feel that continuous education is one of the keys to having happy healthy hounds and have spent many hours learning about the breed and dogs in general. We have an interest in all things dog, including: training, behaviour, nutrition, genetics and health, breeding, exercise and handling skills. I currently serve on the committee of Evesham and District Canine Society as Chair, The West of England Ladies' Kennel Society and I am Chairman of the Midlands and Northern Rhodesian Ridgeback Support and Rescue Trust. I award Challenge Certificates in Rhodesian Ridgebacks and have judged the breed abroad. I am also approved to judge Beagles at Open Show level.

In September 2009 we had to say goodbye to Kheldar. From the eight week old whirlwind to the grand old gentleman he became he introduced us to the world of Ridgebacks and a group of people who are as passionate about the breed as we are. Kheldar also gave us our affix Shingwidsi, which formed part of his Kennel Club name, Shingwidsi Tshokwane. Shingwidsi is the old European spelling of Shingwedzi, which means 'Ironstone' and is a river in the Kruger National Park area of South Africa. As Ridgebacks can have a will of iron it seemed the ideal name!