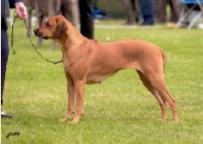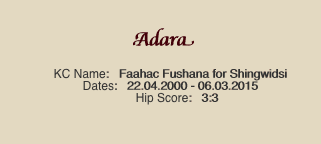 Adara, though known to most as Darrie, was bred by Gill Lawless. Adara was the daughter of two outstanding parents; Ch Vizara Shemesh of Shabani (imp) who was Best of Breed at Crufts in 2000 and the Reserve Bitch Challenge Certificate winner of Crufts that year, Ch Saragwe Saafiki at Faahac.
Always full of spirit and extremely intelligent, she proved to be a wonderful foundation for our breeding. Adara knew what she wanted and could usually work out how to get it! She loved running free unless it was raining and then nothing could make her leave her home comforts. Adara was a feminine red wheaten and though not the biggest Ridgeback, she fell in the middle of our breed standard, she was still a strong athletic hound.


Some of Adara's achievements:

2000 LKA Ch. Best Puppy in Breed out of an entry of 36 puppies.
2000 RRCofGB. Winner of Elsie Jackson Memorial Trophy for Top Winning Puppy
2001 Manchester Ch. Best Puppy in Breed
2001 Three Counties Ch. Reserve Best Bitch in Breed
2002 Crufts. VHC Post Graduate
2002 M&NRRC. Winner of G Regler Trophy for Top Winning Descendant of Ch Vizara Shemesh of Shabani
2003 Three Counties Ch. Reserve Best Bitch in Breed
2003 Hound Show Ch. Stud Book Number
2004 Crufts. 1st KC Good Citizen
2004 M&NRRC Open. Winner of Limit Bitch Challenge
10 General Open Show Best of Breeds and various Group Placings
Kennel Club Good Citizen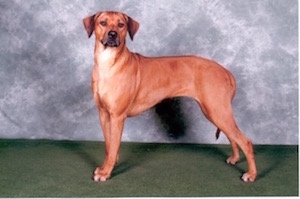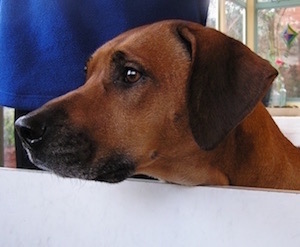 Extracts from a few of Adara's critiques:

Manchester Ch 2001. Judge: Pat Thorne
BP. Elegant young bitch of 9 months, feminine head, sweet expression, good reach of neck, deep chest, well angulated, compact feet, moved very well and was very well handled.

Three Counties Ch 2001. Judge: E Bothwell
RBB. Good clean outline, neat feet, truly feminine in outlook. Moved steadily and true in profile.

Evesham & District Canine Society 2001. Judge: Karen Moore
BOB. Lovely golden bitch, good proportions that fill the eye, feminine head, nice dark eye, good earset, correct length of neck free from excess flesh, plenty of depth to chest, good angulation, moved well, stood out with a bit of spark.

Manchester Ch 2002. Judge: J Aitken Johnston
Good feminine head, round eye well placed, good ear size and shape, clean neck of good length, straight front, compact feet, deep chest, correct rib, well angulated quarters, strong loins, low hocks, free moving.

National Ch 2002. Judge: S J Baldwin
Very strong class and very worthy winner, overall balance very pleasing, movement fore and aft good, in excellent condition.

National Ch 2003. Judge: V Cook
High quality specimen with a lovely head, good bone and substance and strong hocks. Well handled.

Crufts 2004. Judge: W M Adams
A really well constructed pretty bitch, nice and deep through and presented in very good condition, stands back on good quarters, one I really like.

M&NRRC Open 2004. Judge: F Kane
Three top class bitches in close contention, at the head of the class Faahac Fushana for Shingwidsi, lovely type, excellent coat, ridge and crowns, beautiful head, sound mover. Lovely balance and quality.