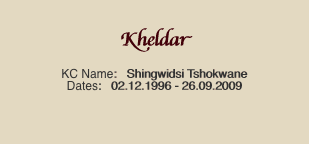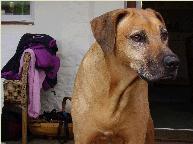 Kheldar was always a character and enjoyed every aspect of life to the full. He was a stunning classical red wheaten Ridgeback who could cover miles without tiring. He was at his happiest when no more than a few feet from you and did not see any reason why he couldn't be a lap dog.
Kheldar's sire was Faahac Fashanu who was the son of Ch Iannto of Janak and Ch Faahac Freya. His dam was Nataballet Galah whose pedigree went back to the successful Australian kennel, Ujamaa.

Some of Kheldar's achievements:

1997 S.Wales Kennel Association Ch. Reserve Best Dog
1998 Crufts. 2nd Junior. 2nd Special Yearling
1998 Richmond Ch. Stud Book Number
2000 Crufts. VHC Limit
2001 Three Counties Ch. 1st Open. Best Dog. Best of Breed
2004 Manchester Ch. Best Veteran in Breed
2004 Crufts. 3rd Veteran
Kennel Club Good Citizen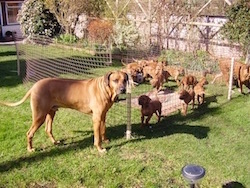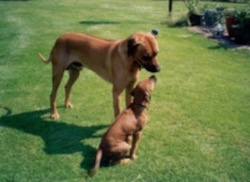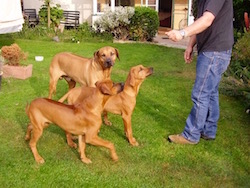 Extracts from a few of Kheldar's critiques:

RRCofGB Ch 1997. Judge: M Quinney
Nice youngster whose movement was sound and positive, nice compact well arched feet, good proportioned expressive head and nice looking topline, dense coat of sleek appearance.

M&NRRC Open 1998. Judge: N Newton
Very promising, lovely head, neck and front, deep chest,plenty of bone, good tight feet, well angulated, sound, free driving movement.

Richmond Ch 1998. Judge: N Ziman
Very attractive head in both skull and muzzle, strong topline, good compact feet, powerful mover.

LKA Ch 1998. Judge: Peter Nicholson
Strong, well muscled, good expression, well laid back shoulder, correct length, well developed in all respects, impressive hound.

Three Counties Ch 2001. Judge: E Bothwell
BD. BOB. Gleaming with good health, in super condition at the correct body wieght, straight true front movement, clean outline, showed well and strode out with purpose and drive.

Gloucester & District Canine Society Open 2001. Judge: Pam Mottershaw
Upstanding stallion male, a picture of strength, very functional hound in excellent coat and condition, super bone, body condition and muscle-tone, delightful well defined head, strong neck, well laid shoulders, deep chest, strong loin, powerful well muscled quarters, moved confidently.

Manchester Ch 2004. Judge: Joyce Mann
BV. Seven years, in fit condition, confident in the ring, good head, eye colour and expression, balanced throughout, deep brisket, plenty of bone, tight feet, moved easily around the ring, in excellent condition.