Vella is a very special Ridgeback, she has a wonderful happy, confident nature. Life is for living and Vella intends to live everyday to the full. Like her Mum she is a joy to live with and a pleasure to take anywhere
Her first show was our local Championship Show in June 2015 when she was just six months old. She won Best Puppy in Breed and went on to win Puppy Hound Group Two. Since then she has had many wonderful wins and gained her Stud Book Number by winning the Reserve Challenge Certificate 12 months later at the same show.


Pedigree

Some of Vella's achievements:

2015 Three Counties Ch. Best Puppy in Breed. Hound Puppy Group 2.
2015 RRCofGB Open. Winner of Minor Puppy and Best Puppy Bitch.
2015 Richmond Ch. Winner of Puppy, Best Puppy Bitch and Best Puppy in Breed.
2015 SRRA Open. Winner of Puppy, Best Puppy Bitch and Best Puppy In Show.
2016 M&NRRC Winner of The Mwenga Trophy for Best Bitch Puppy of the Year and The Karebu Shield for Top Puppy.
2016 Crufts. 2nd Junior.
2016 RRCofGB Winner of the Gunthwaite Shield for Top Winning Bitch Sired by an Imported Dog.
2016 Three Counties Ch. 1st Post Graduate. Reserve Challenge Certificate. Stud Book Number.
2016 Bournemouth Ch. 1st Post Graduate. Reserve Challenge Certificate.
2016 SKC - August Ch. 1st Yearling. Reserve Challenge Certificate.
2016 City of Birmingham Ch. 1st Post Graduate. Reserve Challenge Certificate.
2016 S.Wales Ch. 2nd Post Graduate. Reserve Challenge Certificate.
2016 SRRA Open. Winner of Post Graduate, Mayfair Trophy, and Reserve Best Bitch, Nuthouse Trophy.
2017 M&NRRC Winner of The Jo Hemstock Memorial Trophy for Top Winning Untitled Bitch of the Year.
2017 RRCofGB Winner of The Owlsmoor Trophy, for most consistent bitch winner of 2016; The Umhlandla Memorial Cup, for top winning young adult, and The Gunthwaite Shield, for top winning bitch sired by an imported dog.
2017 WELKS Ch. 1st Limit. Reserve Challenge Certificate.
2017 Blackpool Ch. 1st Limit. Bitch Challenge Certificate. M&NRRC Best Bitch Trophy.
2017 Leeds Ch. 1st Limit. Bitch Challenge Certificate. Best of Breed. Ridinghills Trophy.
2017 Paignton Ch. 1st Limit. Reserve Challenge Certificate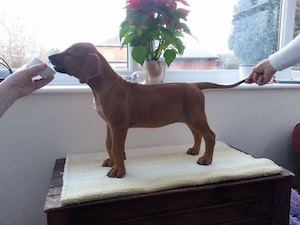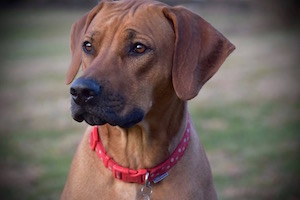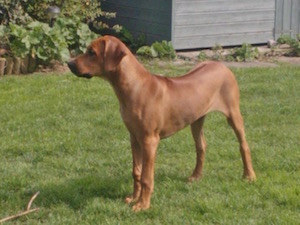 Extracts from a few of Vella's Critiques:

Three Counties Ch 2015, Judge: Jenny Startup.
What a baby but lovely feminine head, long neck into lovely angulation, good depth for age with nice length, moved so well and true. BP PHG2

RRCofGB Open 2015, Judge: Mr M House.
A very feminine head with super dark round eye. Good length of frame, fabulous slope of shoulder and return of upper arm. Ribbing well back with correct length of loin. Quality in bone with excellent compact arched toes. Moved out well, true fore and aft for such a youngster. Showing very clean lines and symmetry in profile. A bright future is surely hers for the taking. MPB. BPB.

Richmond Ch 2015, Judge: Sue Simper.
9 months medium size r/wheaten of quality. Well grown, well balanced outline, feminine head with lovely eye & expression. Good ear carriage. Clean skull & cheek, good length of muzzle which is deep & well cushioned. Super length of very shapely neck into very well angulated shoulders. Correct front with strong quality bone, very good feet. Deep ribs carried well back. Very well made hindquarters. Low set well defined hocks. Very sound coming & going. Lovely free striding profile action. Went around the ring with great style. BP

SRRA Open 2015, Judge: Sonja Nilsson.
11 months old mid wheaten beautiful puppy with first class conformation and type. Excellent feminine balanced head with beautiful eyes and expression. Excellent neck, topline and tailset. Excellent angulated with excellent bones and feet. Well ribbed back. Perfect hindquarters with defined second thigh (one of the few in the ring not being cow-hocked). Moves with ease and drive and perfectly sound coming and going. Excellent ridge and temperament. Best Puppy In Show

Crufts 2016, Judge: Sharon Rossiter.
Very feminine in the head with a soft expression & good overall balance, good ear placement, good reach of neck flowing into a good lay of shoulder & return of upper arm, good depth of chest & ribbing, good body length & strong loin, good quarters & muscular with a good width to the first & second thigh, moved well.

WELKS Ch 2016, Judge: Stephen Holbrook.
Lovely feminine head with kind expression. Good bone & correct feet. Deep chest & correct front & rear angulation. Good turn of stifle & hocks well let down. Moved well.

Three Counties Ch 2016, Judge: Martin Sanders.
Full of quality with good breed type. Excellent in head which is feminine with good balance, good strength in fore face with correct dentition. Good in eye with a pleasing expression finished off with neat well placed ears. Excellent in neck which has good strength & flows into a well laid back shoulder. Correct depth in rib which is well let down to her elbow & carried well back to a firm loin. Excellent ridge & crowns. Her bone has quality & she has good feet. On the stack she displays a balanced picture, on the move she comes into her own displaying very good reach & drive on the out & back holding a pleasing outline on the go around. Presented in excellent order. Pleased to award her the RCC today. With normal luck should wear her crown!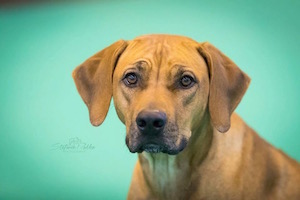 Windsor Ch 2016, Judge: Elina Haapaniemi (Finland)
8 months very nice young bitch. Beautiful outline & carries herself well. Lovely head, which has good length, very good eye & expression. Excellent bone. Moderately angulated in front, very good body & rear. Shown in excellent condition. Excellent mover.

M&NRRC Ch 2016, Judge: Gavin Robertson.
Beautiful headpiece, level head planes, alert eye, A1 bone & feet, moderate angles front & back, easy free flowing movement, excellent condition, strong neck, low set hocks.

Bournemouth Ch 2016, Judge: Stuart Milner.
My first impression of this bitch was wow! She is correct in all departments, looks stunning in profile, very feminine and very sound in movement, everything to me is correct about her, just needs to mature. Was my Res CC.

WKC Ch 2016, Judge: Mrs V Phillips.
Well made bitch of sufficient forechest & strong boned legs. Tight feet. Good ribbing & topline & moved very strongly using her muscled hindquarters well.

SKC AUGUST Ch 2016, Judge: Charlotte Strickland.
Totally eye filling. Balanced feminine head, so well proportioned, looking into her face on it was easy to appreciate her well chiselled features, in profile planes in harmony, correct stop, upper arm & shoulder of best angles. Strong, straight forelegs, boned down to ground. Beautiful clean neck, clean through elbow, carried to body as expected, ribs well sprung carried back to toned loin. Topline level, tail set on at correct point due to well placed pelvis. Quarters follow a true line of correct angles. Forehand movement had reach, sound coming & going, very promising. RCC.

City Of Birmingham Ch 2016, Judge: Jeff Horswell.
Such a well balanced bitch, angulation is very slightly too moderate, but perfectly matched & so she goes with an even & lengthy stride, with no apparent effort. Feminine head. Lengthy neck. Enough fill of chest. Well bodied, with ribs carried well back. Nice deep, tight feet. RCC.

South Wales Ch 2016, Judge: Tom Johnstone.
Another very good quality girl with lots of breed type, liked her size, shape and balance. Also has good rib and bone . In very good coat and condition and had acceptable crowns and ridge. RCC

SRRA Open 2016; Judge: Heidi Parsons
22mnth old wheaten bitch, a quality bitch. So much to like about this very pretty young bitch, she has such elegance and stature, correct proportions throughout, clean lines, so well put together and so close to the breed standard, fought hard in the challenge as her movement was flawless, but she was today giving her handler just a bit of gyp, places could change on any other occasion but happy to award RBB.

LKA Ch 2016, Judge: Liz Storey.
Very pretty, well balanced wheaten bitch. Excellent head type with correct planes to skull and muzzle. Beautiful dark round eye and exquisite expression. Nicely laid shoulder and excellent topline. Correctly sprung ribs going well back. Good width to first and second thigh and strong rump. Low set hocks. In excellent condition both in coat and muscle, her movement was as required, true fore and aft and moving out in profile.

Boston Ch 2017, Judge: Cath Davis.
2-year-old red wheaten, at a different stage of maturity to winner. Feminine pleasing head, has a lovely dark round eye giving an intelligent expression and has a good earset. Long neck flows to a good front with correct return of upper arm supported by correct bone and feet. Good length of ribbing and loin giving a strong topline. Rear angulation is good, with good bend of stifle and let down hocks. Moves with a light easy, free stride that gives the impression of effortless movement, another quality girl.

Gloucester &DCS Open 2017, Breed Judge: Mr M Lewis. Group Judge: Mr J Barney.
Correct dentition, lovely dark eye, good reach of neck into well laid shoulders and upper arm. , correct top line with strong muscled rear used to advantage to power around the ring easily. BOB.
Stood out, real free flowing movement. Full of breed type and quality, in good condition. Plenty of substance and good bone and feet, well ribbed and strong loin. Correct ridge. HG1

WELKS Ch 2017, Judge: Gillian Mitchelson.
Beautifully constructed light wheaten bitch, so well balanced standing and on the move with excellent angulation. Lovely head planes with kind expression, correct round eye and ear carriage. Lovely reach of neck leading down into sloping and clean shoulders. Good deep capacious chest with correct infill of forechest and good length to loin. Correct feet. Excellent level topline which was held while moving. RBCC

Border Union Ch 2017, Judge: Peter Broadbent.
Two and a half yr old wheaten, very sound construction, sweet expression, excellent mover on good bone and tight feet.

Blackpool Ch 2017, Judge: Linda Parke-Cox
2 year old wheaten bitch from the top draw. excellent breed type, quality and style, of beautiful make and shape, beautiful feminine head, good reach and length of neck, excellent front construction, correct topline and tailset. Moved with reach and drive, true coming and going. Shown in beautiful condition, excellently handled. Must have a bright future. CC

Windsor Ch 2017, Judge: Graham Hill
A free moving, rising 3 year old smart bitch who impressed and won her placing with her side gait. She has an all-together appearance in side profile being of pleasing shape and proportions which is enhanced by her attractive breed typical head and expression. She is well boned, of good size and firm in body.