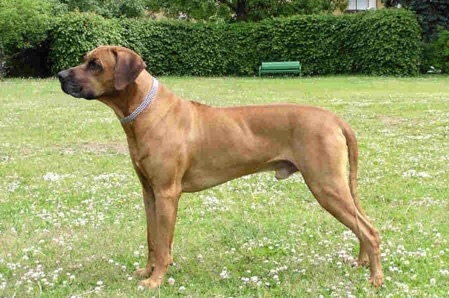 Sire:
Ozzy - IntCh, NordCh, SVCh, SUCh, NUCh,DKUCh, SV-02 Hayawani Zazazela Moyo
HD/AD (Hips and Elbows) Free
Mentality Tested: Good Score and Gunshot Proof
Swedish Field Tracking Champion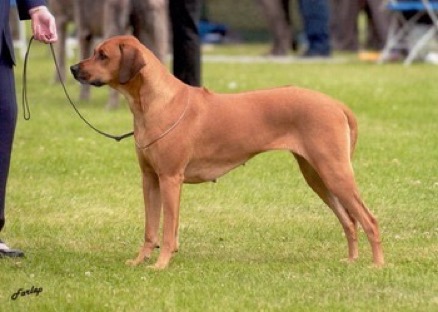 Dam:
Adara - Faahac Fushana for Shingwidisi

Litter Pedigree

12 Puppies: 7 Boys and 5 Girls
No Dermoid Sinus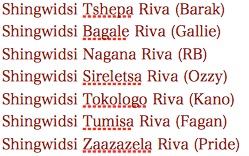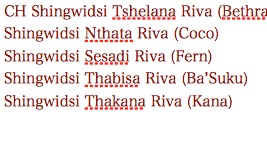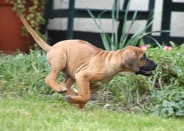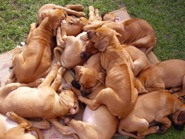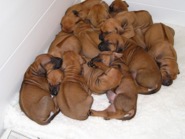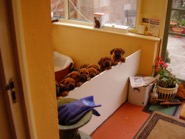 In 2003 we decided that the time was approaching to add another Ridgeback to the family so after a lot of thought we decided to have our first litter. As the only reason for us to breed was to keep a puppy, we did a lot of research to try and find the perfect partner for Adara. The search led us, with help from Adara's breeder, Gill Lawless, to Ozzy.
Ozzy was bred by Catharina and Henrik Tandefelt of the Hayawani Kennel in Sweden and is owned by Mattias Karlsson and Josefin Lofstedt in southern Sweden. After a lot of planning by all of us, and obtaining permission to have a litter by artificial insemination fromThe Kennel Club and DEFRA, Adara whelped a beautiful litter of 7 boys and 5 girls in January 2005.
Our aim was to always find good homes for our extended family and to make the new owners feel that we were always available if ever needed or even for just a chat about the antics of Ridgebacks. We were very lucky with the homes that we found and over the years have enjoyed hearing about the progress the puppies have made into happy family members.
Barak and Bethra stayed with us and you can see how they have progressed on their own pages. Gallie has been shown lightly and in August 2006 delighted his owners Zoe and Martin by qualifying for Crufts 2007. Kano went to live with Claire and Colin and, fortunately for us, Claire is a fantastic photographer. A huge thank you goes to Claire for her superb pictures of our dogs over the years, many of which are featured within this site.