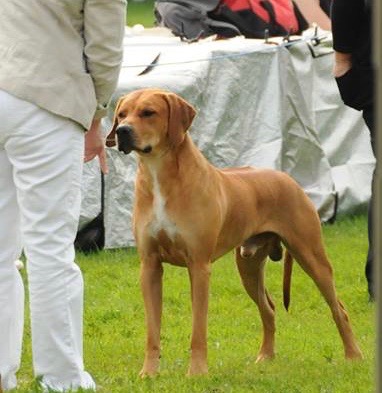 Sire:
Merlin - Ch Roseridge Royal Romeo JW (AI) (Imp Sweden)
Hips: 2/3 Elbows: 0/0
Owned by Andrew & Sharon Geeves, England
Bred by Sonja Nilsson, Roseridge Kennel, Sweden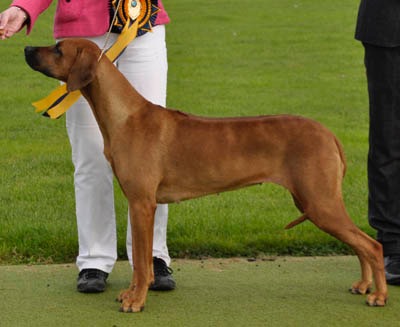 Dam:

Porenn - Ch Shingwidsi Tshelete Silk

Litter Pedigree

5 Puppies: 1 Boy and 4 Girls
No Dermoid Sinus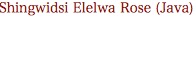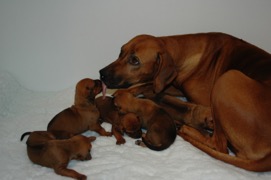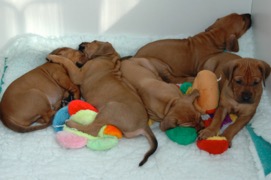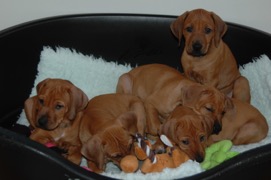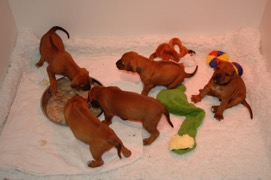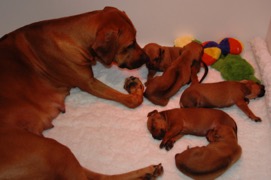 As with all our litters, we only breed when we want to add another Ridgeback to our family, which means we always take the greatest care when choosing a stud dog for one of our girls. Porenn is really special to us. She has exceeded all our expectations in and out of the showring but more importantly she is a joy to live with. She has the sweetest character and we wanted to find a dog that would compliment her lovely nature.
We are very fortunate to be able to use Merlin. He is owned by friends Andrew and Sharon Geeves so we have spent a lot of time with Merlin and their other Ridgebacks, Zeus (Porenn's half brother) and Remus. Merlin is a gentle loving male who has a true mischievous Ridgeback character. He is also a lovely correct example of the breed and is a Champion. The pedigree of this litter is truly international, combining some of the top original blood lines from America with some of the best British, Swedish, Australian and European lines.
Porenn and Merlin's puppies were born on the 26th November 2014. All five, one boy and four girls,have their parents lovely easy going nature. Vella has stayed with us and more information can be found on her page. Melody, Zola, Zeeva and Java have settled in well with their new families and we love getting regular updates. Java lives with Porenn's sister, Shemse, and they have become the best of friends. Pictures of them can be seen below.